Back to
Blog
Brandquad's ECI : A Digital Shelf Analytics Solution
November 15, 2022
4 min read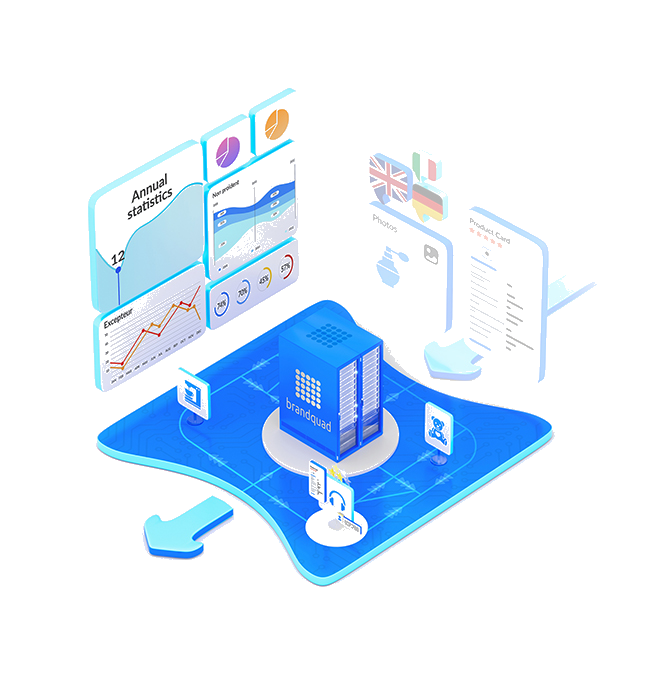 You might have heard of digital shelf analytics (DSA), ecommerce analytics or ecommerce intelligence tools, but what is it and why is a digital shelf analytics tool important for your business?
What is E-commerce Intelligence (ECI)? 
E-Commerce Intelligence (ECI) is Brandquad's Digital Shelf Analytics solution. Similar to other DSA tools, it enables users to monitor and analyze product information such as prices, on-shelf availability and other relevant data points on online retail sites. Brandquads ECI solution is a part of the Product Experience Solution (PXM) suite, bring data analytics and intelligent insights to the product content lifecycle.
Why is ECI important for brands?
E-commerce Intelligence analyzes product experience performance.

E-commerce intelligence empowers effective decision making.

You can boost your online sales with data-driven decisions.
ECI allows you to continuously monitor product experience performance metrics for your products in every digital retail channel.  By having this continuous stream of data, you can leverage the metrics and insights to identify the actions you should be taking to become more competitive and to sell better, faster and in the right channels.
You can track data for your brand but also the same metrics for your competitors, giving you a better grasp of how the market is moving channel by channel or globally. You are better prepared to generate more revenue, focus your team's efforts, and be more effective when carrying out your ecommerce strategy.
There are many different relevant metrics that you are able to track with Brandquad's ECI, which is more feature rich than most of the competing DSA solutions on the market.  You can track the movement of prices, the availability of your products, rating and reviews, your products ranking in each websites, content compliancy, and more. It's all about being able to get the right data and using it efficiently.
Here is a peek at the different metrics that we track with our ECI solution. Not only can you track these metrics for your product portfolio, but also benchmark against competing brands and products.  These insights are helping our clients conquer the digital shelf. 
You can collect and analyse data related to: 
Prices – Observe pricing trends per retailer, brand, or category, so you can employ the right pricing strategy for each product.
Product Assortment

– get better visibility on competitors' products market share across e-retailers and share of shelf.
Search Performance

– confirm the performance of your search strategy for each retailer by knowing where your products rank for your targeted keywords.
Category Analysis

– increase findability and conversion rate by ensuring your products are discover easily through site browsing. 
Content Comparison

– improve customer experience by ensuring e-retailers are publishing the correct content as compared to your 'golden' standard.
Advanced Content Analytics

– increase the conversion rate with better quality product content specifically optimized for each channel.
Ratings & Reviews

– compare product ratings and reviews with your competitors; Respond promptly to negative reviews.
Availability

– understand which channels are out of stock with your different products; use historical data for demand planning and preparation.
Promotions

– identify the different promotional campaigns being used to sell your products in every channel.
Banner Analytics

– ensure that your retailer-specific advertising campaigns are properly implemented and compliant; know your share of voice.
Dynamic Reports

–

generate the reports configured for your unique business needs, so you can leverage the data the best way possible for your company.
With ECI you will be able to avoid lost sales, improve margins with dynamic pricing, empower your digital merchandising, and so much more!  The power of this data can bring your ecommerce business to the next level. If you are interested in learning more, be sure to browse our ECI feature highlight articles.  Or you can get a quick demo and discussion with a digital shelf expert.