Back to
Blog
Feature Highlight – Ratings & Reviews
December 15, 2022
4 min read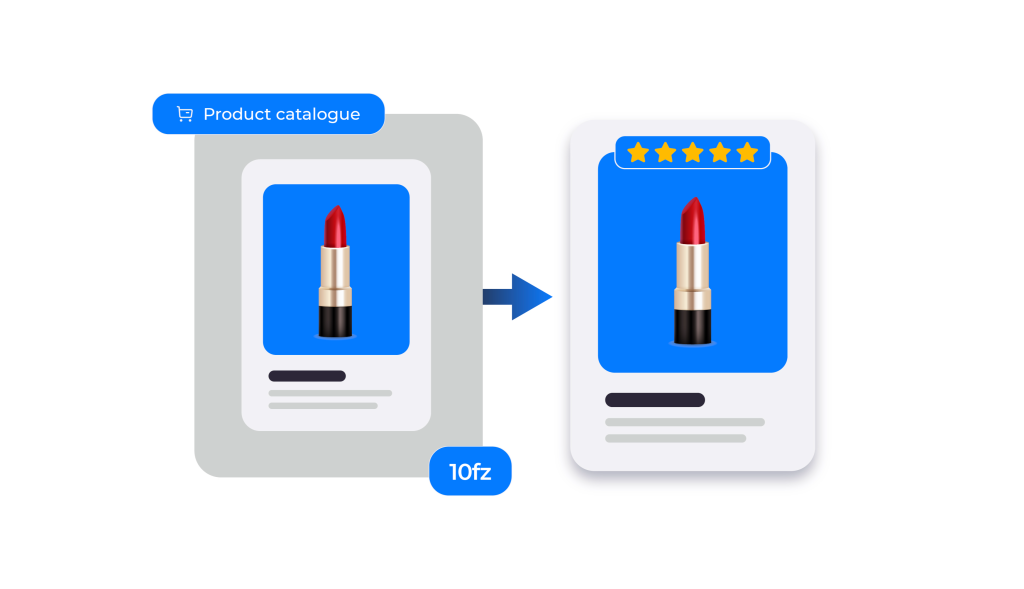 Ratings are usually star rate between one and five, and reviews are linked to them as descriptions from the buyers about his buying experience.
Monitoring ratings and reviews left by users on retailers' websites will allow you to quickly obtain information about customer satisfaction with your product characteristics. Based on this data, you will be able to perform a complete and comprehensive analysis of customer feedback and then create an effective strategy for further product development on the market.
Why should you realise the importance of ratings and reviews in your strategy ?
Ratings and reviews allow customers to share their experience with your product or service, and give it an overall star rating. Shoppers rely on this content to make more and more informed purchase decisions. Studies show that 88% of online shoppers read at least 3 reviews before any online purchase.
In fact, ratings and reviews became the top factor impacting purchase decisions over the past years, surpassing price, free shipping, discounts and recommendations from family and friends.
They provide invaluable social proof to shoppers as they can't see, touch, and smell the product they're purchasing online. But when they read the reviews, shoppers can cross-reference with people who have already purchased your product, to verify that it looks and works like you say it does.
On another part, reviews allow companies to get insights about their product which they can re-use in description (as keywords), or fix something in the product that's not convenient for the consumer, as well as adding an instruction on how to use the product.
As an exemple :
One of our clients, a leading cosmetic brand, learned from analysing reviews that for one of their, a face mask, the product is popular during sales events (customers add in the reviews that they bought this product mostly when the price is reduced).
For another product of the same  brand, reviews showed that the face mask  is effective for his virtues, but can be painful for people with sensitive skin. This information could be used to add a warning on the product description.
Rating and reviews also helps to rank higher in search results and helps our brands and products to get found easier.
Here are the top 4 of what the customers are looking for in your rating and reviews sections :
Average star rating

Number of reviews

Details of the reviews which answer shoppers questions/needs

Recency of the review
What can you do with the Ratings and Reviews module?
Our ratings and reviews module is part of our ECI solution, it helps  you : 
Viewing the number of reviews that is displayed in a retailer's product card counter, excluding outdated and hidden data.

Monitoring the total number of all collected reviews on a particular product left by buyers in a particular online store, including hidden and deleted data.

Calculate the average rating of a product during an analysed period and compare the change of this metric for several products.

Analysis of each review separately including its text, publication date, and a note given by the buyer.
What are the benefits of our ratings and reviews module?
Quickly see your online reputation stage on a product, retailer or category level.

Notice when you need to rapidly respond to potentially negative reviews and situations

Improve conversion rate by identifying products that need more reviews or increased ratings

Deep dive into buyers feedback by compiling reviews from across the entire digital shelf into one controlled platform
In conclusion, ratings and reviews are an important part of the modern consumer experience. They provide valuable insights into the quality and effectiveness of products, allowing potential buyers to make more informed decisions. As a result, businesses should prioritise collecting, analysing and responding to ratings and reviews to improve their products and build trust with their customers.
Now that you know more about ratings and reviews, reach out to our digital shelf expert to know more about Brandquad's ECI module or book a demo.